HOW TO MAKE DIGITAL JOINER PHOTOGRAPHS
Rule #1: ALL PHOTOGRAPHS DISTORT THE WORLD
You will discover this as soon as you try to put two images together. They never quite fit.
If you take two overlapping photos of a scene such as the following:

Then try to lay one on the other this is what you get: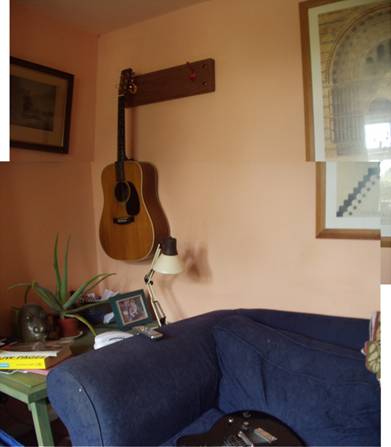 Line up one point and the other parts don't fit.
Put in simple terms the image that goes into the lens is a curved one, part of a sphere, but it is put onto a flat shape, a rectangle. The farther away from the centre of the photograph the more the elements are 'distorted'. To make things fit in a joiner photograph you have to change them. To do this I would recommend you use a software program called Adobe PhotoShop™ which allows you to manipulate photographs. There are other software programs that will do the job but this is the one we will refer to. Though up to date versions are expensive you can buy older versions much cheaper and these are quite adequate to do what is required.
Not only does the shape change but light and colour values also change. These may also need to be dealt with and need to be considered even before you take the photographs.